Sri Lanka Telecom (SLT), country's number one ICT solutions provider, once again empowers Sri Lanka's largest ICT exposition, INFOTEL 2015 in the capacity of the "Strategic partner". INFOTEL 2015, South Asia's premier flagship ICT exposition will be hosting its 14th edition from 20th – 22nd November, 2015 at BMICH, Colombo. With Sri Lanka poised to be 'The IT Hub' of South Asia, INFOTEL 2015 will aim at 'Connecting Citizens' not only through education and information, but also by providing to its end consumers a whole new world of intelligent devices and systems. INFOTEL will also demonstrate the use of such state-of-the-art technological advancements for the betterment of the island nation in the years to come.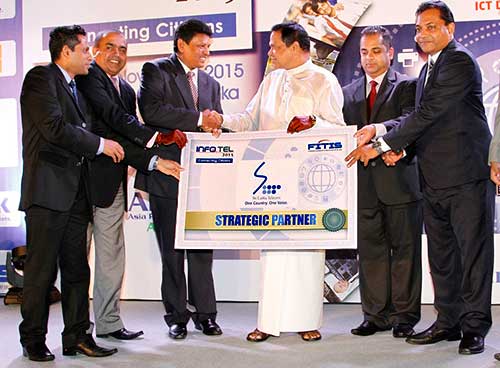 Today, technology plays a key role in society – it touches every aspect of life, enhancing lifestyles, and making the entire world a much smaller place than it used to be a few years ago. Thus INFOTEL 2015 will revolve around the theme of "Connecting Citizens".
Sri Lanka Telecom, being the national telecommunication service provider in Sri Lanka, company passionate about ensuring ICT accessibility and affordability for all with a view to enhancing living standards of people and bringing about transformations in peoples' lives as well as business organizations. SLT committed to bridging the digital divide in the country and expediting socio-economic development in line with the initiatives of the government of Sri Lanka. Company believes, it was a pride and privilege for SLT to partner with the Federation of Information Technology Industry Sri Lanka (FITIS) once again this year to support and empower INFOTEL 2015 in the capacity of "Strategic partner".