- Biggest ever broadband offer in Sri Lanka
- Highest Data volume offered by any service provider
- Encouraging to Speed-Up digital lifestyle journey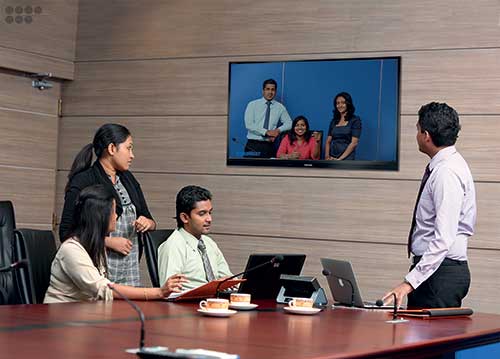 Sri Lanka Telecom (SLT), the flagship national ICT solutions provider and the leading broadband service provider, recently launched the Terabyte Data package offering its broadband users the highest data volume given so far by an internet company in Sri Lanka.
Now SLT Broadband internet users are offered with up to 1225 Gigabytes or GBs (1.2 Terabyte or TBs) data volume per month. This includes two brand new packages "Web Inspire" & "Web Premier" offering 675 GB & 1225 GB respectively for attractive monthly rentals and is ideal for heavy internet users that include individuals or small and medium businesses.
"The company made these new high data volume packages available in the market to respond to the demand of internet users for more data volumes while experiencing ultra-fast SLT broadband internet access", SLT's Chief Marketing Officer, Ajantha Seneviratne said.
SLT has also taken several initiatives in the recent past including significant enhancements to its internet speed of up to 16 Mbps and offering unmatched data bundles of up to 400 GBs for its existing package offerings.
Customers making use of or wishing to use SLT's ultra-fast broadband internet via Fibre, LTE & ADSL can greatly benefit from the new unmatched high volume packages which can also be used for shared data for multiple devices.
Mr Seneviratne explained that the company is giving the consumers a choice of the biggest ever broadband deals to suit every lifestyle. "We believe these options to larger audiences will help them to save expenses spent on internet access, especially because we offer up to Terabytes of data volume packages which can be shared among office colleagues and also be used on multiple devices".
He quoted cost savings, unmatched data bundles, shared data for multiple devices and uninterrupted high speed accesses as direct value creations to the SLT consumers.
SLT's global coverage has significantly been strengthened via multiple undersea optical fibre cable systems: SEA-ME-WE 3, SEA-ME-WE 4, Bharat-Lanka and Dhiraagu-SLT. Following a recent upgrade to SEA-ME-WE 4 by SLT enabled the cable system to accommodate much higher speeds using 100G technology.
Currently, SLT is in the process of implementing yet another important connectivity project, the SEA-ME-WE 5 international undersea cable system with a total design capacity of 24 Tbps and 100G technology.