Sri Lanka Telecom PLC recently conducted a social media campaign that encouraged SLT fans on social media including Facebook and Instagram to explain the meaning of 'LOVE', amalgamating with the SLT brand using emoji. The campaign was a massive success, with active responses from a large number of SLT fans.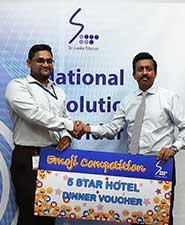 'Love' was chosen as the theme of the campaign considering the universal applicability of the feeling and also need of expanding it to not only the lives of individuals but also the nation in general. An objective of this campaign was to encourage SLT social media fans to discover different aspects of love by attempting to provide varying interpretations to the term in terms of emoji representations, which can be considered a prerequisite for strengthening the bonds between the company and the public and also among the citizens of Sri Lanka.
It was also expected to strengthen the relationships between the connectivity solutions provided by SLT and its massive customer base while encouraging the SLT fans to interpret love using emoji.
The winner selection has been done through a committee by considering the creativity of the emoji shared. Mr. Indika Fernando, the Grand winner of the competition was offered a dinner at a five-star hotel for two people while the top ten winners including the Grand winner were eligible for 10GB free. Awarding was ceremonially held recently at the SLT Headquarters, Colombo.