To further facilitate the latest information technology and communication services provided by Sri Lanka Telecom PLC, a new Teleshop was recently opened in Akurassa.
Mr. Chinthaka Wijesooriya (Chief Regional Officer of SLT) and Mr. Roshan Kaluarachchi (Chief Marketing Officer of SLT) declared the teleshop open at an official opening ceremony held recently.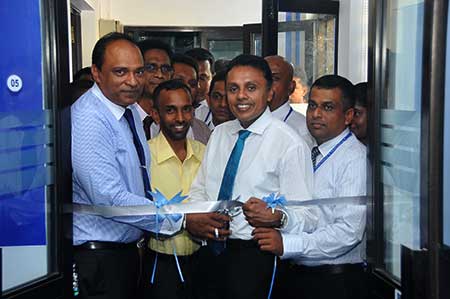 The newly opened Teleshop is a franchised teleshop opened in SLT premises in Akurassa in partnership with SAC Enterprises and accepts SLT bill payments as well as facilitates the purchase of all SLT products and services including Broadband, PEO TV and Citylink CDMA connections, prepaid phone cards as well as undertakes repairs of SLT CDMA phones. Customers can obtain additional services such as photocopying, laminating, computer printouts internet café facilities. as well at the Teleshop. Further, with the ultimate goal of developing the ICT knowledge in the area, the Teleshop will also have an experience centre where school children can obtain hands-on experience on the latest technologies via ICT awareness programmes which will be periodically conducted at the Teleshop.