ri Lanka Telecom (SLT), the premier ICT solutions provider in the country successfully concluded the 2nd edition of the trailblazing awards programme to recognize digital initiatives - the SLT Zero One Awards for Digital Excellence - at a grand awards ceremony held at the Hotel Galadari Colombo. The glamourous awards ceremony organized to honour and recognize the innovators of digital initiatives for the years 2017/2018 was held on Tuesday, 11th December 2018.
The SLT Zero One Awards for Digital Excellence is a unique awards scheme dedicated to recognize digital excellence in institutions, individuals and brands with regards to significant achievements made by leveraging digital technologies. This year's competition saw the receipt of entries from a large number of applicants spread across a wide spectrum of industries and sectors including Financial, Information, Travel and Leisure, Media and Publishing, Health Care and Personal Services, Professional Services, Retail, Manufacturing, Transportation, Storage and Logistics, Government Institutions, NGOs and even individuals and teams.
A total of 136 awards were given away this year, including 6 institutional category / sector awards, 3 lifetime awards to individuals who have made a unique contribution to the digital sphere in Sri Lanka in some way, 6 overall winners as well as one individual category award. The institutional / sector awards were given under the categories: Best Digital Enabled Product / Service, Best Digital Integrated Campaign, Best Community Empowerment Programme, Best Digital Media Agency, Best Website or Microsite, Best Use of Mobile.
Applicants for the awards were subject to a transparent and rigorous screening process carried out by a panel of 15 independent judges with international exposure in the digital media industry. The Lifetime Awards were given away to: Professor Rohan Samarajiva, the current Chair of the ICT Agency for his contribution through the years as a public policy maker and advocate to provide access to cost effective and high quality digital infrastructure for all Sri Lankans; Professor Vajira Dissanayake, the Chairman of the Commonwealth Centre for Digital Health for his contribution to promote and facilitate the development of digital health in Sri Lanka as well as internationally; and Professor Gihan Dias, the Domain Registrar of the LK Domain Registry and Chairman of TechCERT, Sri Lanka's premier information security body, for his contribution towards promoting and facilitating the development and governance of the Internet and Internet enabled services for the benefit of all Sri Lankans.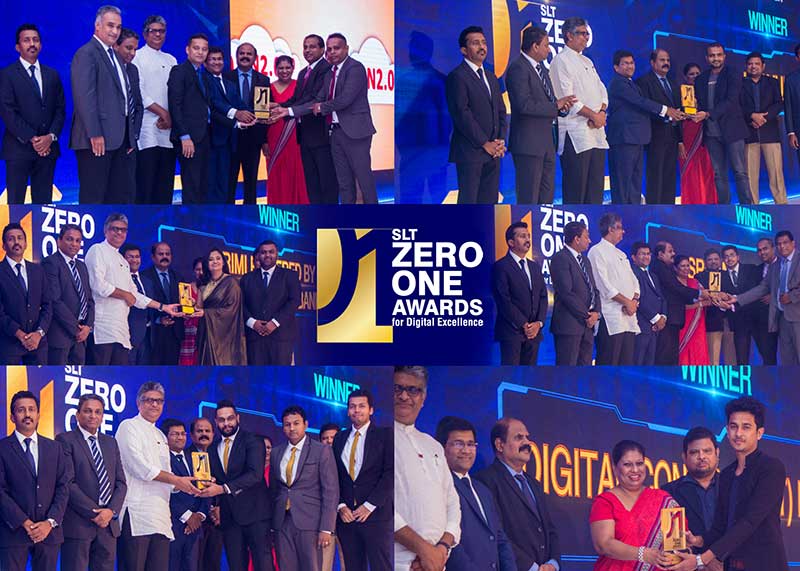 The overall - winners of the SLT Zero One Awards for Digital Excellence 2017/ 2018 are as follows:
ICT Agency of Sri Lanka - Best Digital-Enabled Product/Service category; Ath Pavura - Best Digital-Integrated Campaign category; FriMi powered by Nations Trust Bank - Best Community Empowerment Programme category; Digital Content (Private) Ltd - Best Digital Media Agency category; www.hirufm.lk - Best Website or Microsite category; and Sri Lankan Airlines - Best Use of Mobile category
SLT extends its heartfelt congratulations to all the winners on their success at the awards. During a time when the government of Sri Lanka is undergoing a major transformation towards becoming a digital economy, SLT has continued playing a catalytic role as a pioneer and trailblazer in ICT in the country. The company has continuously re-invented and transformed itself many times over during the past 160 years to lead the country's ICT journey. This awards programme is yet another initiative that was birthed by the company with this vision in mind, and is the first ever digital awards of its kind in the country. The key role that technology can play in uplifting a country's economy and living standards of people can never be emphasized enough. The company encourages organizations as well as individuals to continue to innovate in the digital platform and contribute towards the country's digital transformation since digital is the future, and the future is digital.