Sri Lanka Telecom PLC has been honored with the "Best Use of Social Media in Marketing" award under the category "Excellence in Social Media & Digital Marketing" at the Golden Globe Tigers Summit Awards, held in Malaysia on 25th March 2015, for its unique, resonant and strategic use of social media.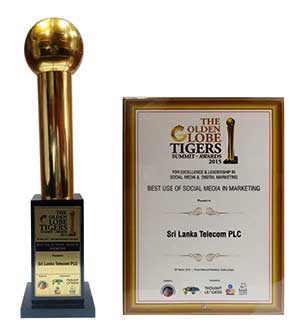 The Golden Globe Tigers Awards aims to recognize "TIGERS" in marketing, branding CSR & social innovation across leadership levels in organizations. Moreover, under the category of "Social Media & Digital Marketing", it captures the excellence in the use of social media strategies, implemented campaigns and the best leaders in social & digital media and their outstanding achievements which have positively contributed to the development of the social & digital media in Asia Pacific (APAC) region.
The award reflects the tremendous success achieved by the company in using social & digital media as a tool for business and synchronizing it with everyday lives. Further, it portrays the company's increased visibility and participation in the discourse on social media marketing. While strengthening the social presence into next levels, Sri Lanka Telecom PLC continues, bringing customers closer to the brand through social media while encouraging interactive engagement.