SLT endeavours to add value to the community through effective knowledge sharing.
Sri Lanka Telecom (SLT), the national ICT solutions provider and the leading broadband and backbone infrastructure services provider was recognised as "1st Certified knowledge management organization" in Sri Lanka by KM Pro, a US based non-profit professional organization that seeks to encourage knowledge management practices among business organisations as well as individuals across the globe.
SLT was awarded this certification, after submitting a detailed, comprehensive report on the knowledge management (KM) that is currently being practiced by the company; marking the company as "the pioneer KM organisation in Sri Lanka". This certification evidenced that the company satisfied all the knowledge management criteria and guidelines set out by KMPro. SLT also has in place a KM team, comprising of chief officers and other senior management, and headed by the Group CEO, to effectively drive knowledge management within the organization.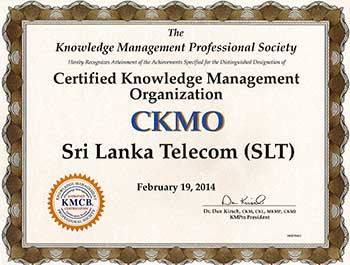 "We are privileged and proud to be the first company in Sri Lanka to receive the knowledge management certification," commented Mr. Lalith De Silva, Group CEO of SLT who is also the Head of the KM Team in the company. "Effective generation, storing and sharing of knowledge is crucial for the progress and sustainability of any organization as well as community; our 150 years of experience has no doubt taught us the importance of this. We strive to facilitate connectivity between all people of Sri Lanka with the rest of the globe, to create an information rich society that will foster innovation. Whilst we appreciate the efforts of KMPro in encouraging the adoption of effective KM practices across the globe, we also encourage other organizations in Sri Lanka to come on board and adopt KM best practices into their day to day business operations which will not only help improve organizational performance and ensure sustainability but will also add value to society."
Having been established in the industry for over a century, SLT comprises of a large talent pool of approximately 7000 employees. Over the years, the company has acquired a significant amount of implicit as well as explicit knowledge, which it has continuously strived to manage and share effectively with a holistic, futuristic vision. SLT has implemented a learning culture, where knowledge is efficiently and effectively generated, stored and shared among all employees. Training and development of employees has also been identified as a key strategic objective of the company, and a high degree of importance has been given to knowledge sharing among employees. Thus, regular knowledge sharing sessions are a norm in the company, where employees who have undergone training are given the opportunity to share what they learned with others in the company.
Furthermore, the company also facilitates e-learning for employees through the intranet, enabling them to be continuously up-to-date and knowledgeable in their relevant fields and professions. In order to foster innovation among employees, SLT encourages active participation of all staff in company decision making by providing open channels through which to communicate their ideas and suggestions for continuous improvement of the company. SLT also has adopted the Knowledge Circle (KC) concept for problem solving, which brings together cross functional teams from across the organization to resolve identified issues.
The ultimate aim of SLT in acquiring the CKMO designation is to add value to society through knowledge sharing. "Knowledge sharing is power" and the company has instilled the knowledge sharing / learning culture into the very heart of the organization. ICT being key to knowledge sharing in today's day and age, the company empowers both urban as well as rural communities by making ICT easily accessible as well as affordable across the country. The company is in the process of further improving its knowledge sharing efforts to drive its workforce and systems towards enhanced knowledge management in the future.
About KMPro and CKMO Certification
The Knowledge Management Professional Society (KMPro) is a US based, international professional society. It is the world's largest KM society and is a non-profit, all volunteer, member-driven community committed to promoting KM worldwide, with membership available for those interested in KM.
The KMPro Certified Knowledge Management Organization (CKMO) Certification Program and its CKMO Criteria-Based Assessment empowers an organization to reach its goals, improve results, and become more competitive by aligning organizational knowledge assets with organizational strategy, plans, processes, decisions, people, action and results. Using the CKMO Criteria provides a holistic assessment of where an organization is and where it needs to be relative to its Knowledge Management, Organizational Learning and Innovation efforts and requirements. Organizations achieving the CKMO certification are recognized for having achieved a high level of organizational competence in and commitment to Knowledge Management, Organizational Learning, and Innovation.