Hon. Mangala Samaraweera, Minister of Foreign Affairs, Telecommunications & IT made his first official visit to Sri Lanka Telecom (SLT) head office on 23rd March 2015. This was the Hon. Minister's first visit to SLT, after his assumption of duties as the Minister of Foreign Affairs, Telecommunications & IT.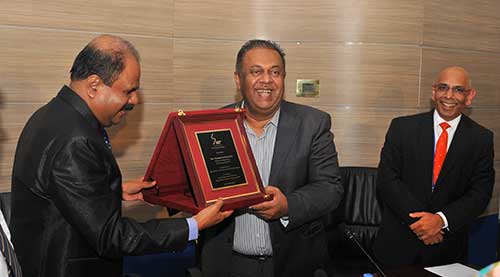 Hon. Minister was warmly welcomed to SLT by the Chairman, Board of Directors, Group CEO as well as members of senior management of SLT. During the visit, he took time to address the senior management of SLT to discuss the future plans of the company and also carried out a special address for the union members of SLT.
During this address, Hon. Minister stated, "SLT has come a long way since its inception over 150 years ago as a Government Department and the progress that it has made is admirable. Today it is a highly reputed and competitive public listed company, which is also the National Backbone Provider of the country. The results of the changes that have taken place through the years in the company have been reflected in major developments in the country which are very evident today. A good example of this is that Sri Lanka has the highest tele-density rate in South Asia today, which can be traced back to the great leadership provided by SLT in the telecommunications industry. As our country has embarked on a new journey to be a "New Sri Lanka", SLT also is embarking on yet another new chapter in history. With the recent appointments of the new SLT Chairman as well as an experienced board of directors and Group CEO, we can confidently embark on this new journey." Hon. Minister also thanked the management and employees of SLT on their hard work and commitment to bring SLT to its current strong position and assured his commitment towards further uplifting and developing the telecommunications industry in Sri Lanka.
Mr. P.G. Kumarasinghe Sirisena, Chairman of SLT, also giving his comments on the first official visit of Hon. Mangala Samaraweera to SLT said, "It is a privilege and honour for us to have Hon. Minister visit SLT and discuss our progress and future plans. It is a great encouragement and motivation for us especially considering the key instrumental role he played in reforms in the company to meet the challenges of a deregulated telecom industry. Today it is recognized as the one of the most successful examples of privatization in Sri Lanka. Our company has undergone several changes through the years as well as in the recent past. Most importantly, as the National ICT Solutions Provider of the country, we hope to continue serving our nation to further its development and reach greater heights."
A presentation was done by Mr. Dileepa Wijesundera, Group CEO of SLT on the current progress and future plans of SLT, after which a token of appreciation was also presented to Hon. Mangala Samaraweera by Mr. P.G. Kumarasinghe Sirisena, Chairman of SLT for his valuable contribution and encouragement to the company by his visit.